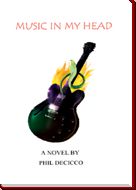 As an Author:
Phil's writing is closely connected to his music. His close call with the maker & the events leading up to his heart surgery made him realize that his creative side wasn't finished just yet. In addition to his music he also wrote a book titled ''Music In My Head'.  According to Phil, the story originated somewhere deep within his brain many, many years ago but never found its way onto paper but once he started writing, it flowed endlessly. It is available on line through the Book Publisher, AuthorHouse or at the most popular online book sites, Amazon.com and Barnes & Noble as well as on many other on-line retail venues. I'm sure you will enjoy it. It is ranked 4.5 stars out of 5 on the Amazon site by those who have already taken the opportunity to read it. You can also order it at your favorite book store. Ask for it by name or by its ISBN # 1403353514.
Keep reading below for a Music In My Head Overview!
Have you ever wanted something, set a goal, harbored a strong desire and was willing to do whatever it took to get it, accomplish it or achieve it? Music in My Head presents the story of people willing to sacrifice their bodies and souls for desired glory, success and associated amenities.
It is the story of a young musician, Peter Dixon, caught in the middle of a demonic scheme to transfer intelligence, skills, and competencies from those individuals possessing them to those coveting them through the intimate acts of love making. It is the story of the devil's chosen representative, his earthly desires and his favored concubine. It is a love story laced with egregious sex, heartbreak and self-revelation.
Peter, an unsuspecting pawn in this dangerous game of chess, rises from near death and imprisonment to achieve victory over evil's flaming reptile, a feat only accomplished with the aid of a team of misfits adopted by God to provide an unholy war on the devil's serpent and his minions.
Throughout the story, the reader experiences the constant battle of good vs. evil vs. evil. The reader will decide the true victor.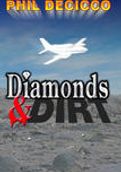 Diamonds & Dirt
Diamonds & Dirt is Phil DeCicco's second book.
This book like Music In My Head is also based on one of his songs and allows the reader to experience secondhand, the Yoga of Transference as interpreted by Phil.
The question is can an individual exercise enough mental and spiritual control to allow themselves to exit their own body and enter the body and mind of another; to see, hear and feel what another actually is seeing, hearing & feeling; to communicate mentally with the mind belonging to the invaded body; to learn from and teach that shared body and mind?
The book is still being developed and written but here is a brief sneak preview for your enjoyment:

Diamonds & Dirt Sneak Preview:
Drops, the size of nickels, splattered across the small window creating a smeared, gel-like surface hindering my view of the outside. Even the flashing streaks of lightning that accompanied them were dramatically obscured. I wasn't sure what our altitude was but I could feel the turbulence as my stomach lifted, first turning one way and then the other. The 'Air Lanka' craft's velocity forced the raindrops to race across the smooth, double pained glass to the outside perimeter of the box-like windows initiating a suicide jump for each one that successfully survived its nascent impact. The reflection of my face looked somberly back at me through the glass clearly displaying the distress that was building up inside. It wasn't that I feared flying but the storm we were flying through now was one of the worst, if not the worst, I had ever experienced. A fellow passenger, observing my concern, took a moment from his reading, a bold disregard of the inclement weather, to inform me that this storm was nothing compared to some of the others he had encountered during the monsoon seasons in this part of the world. The flight attendants leisurely strolled the aisles stopping occasionally to offer assistance to various passengers. The captain's voice, echoing from the cabin's intercom, calmly informed us that all was well. His message ended with a brief apology for the inconvenience that we all knew was beyond his control. The flight would be arriving a bit late. I tried to close my eyes and think about other things but the sullen face glaring at me from behind the glass left me feeling uneasy. You know the feeling when someone's eyes are fixed on you and there is nothing you can do but look back. Well, that is what I did. I stared back at my reflection hoping it would be the first to avert its eyes. It didn't. I did. This storm was starting to affect my psyche. I decided right then and there that I had to find a better way to earn a living.